Unnamed Perils Policy Claim
A Novella
By W.L. Swarts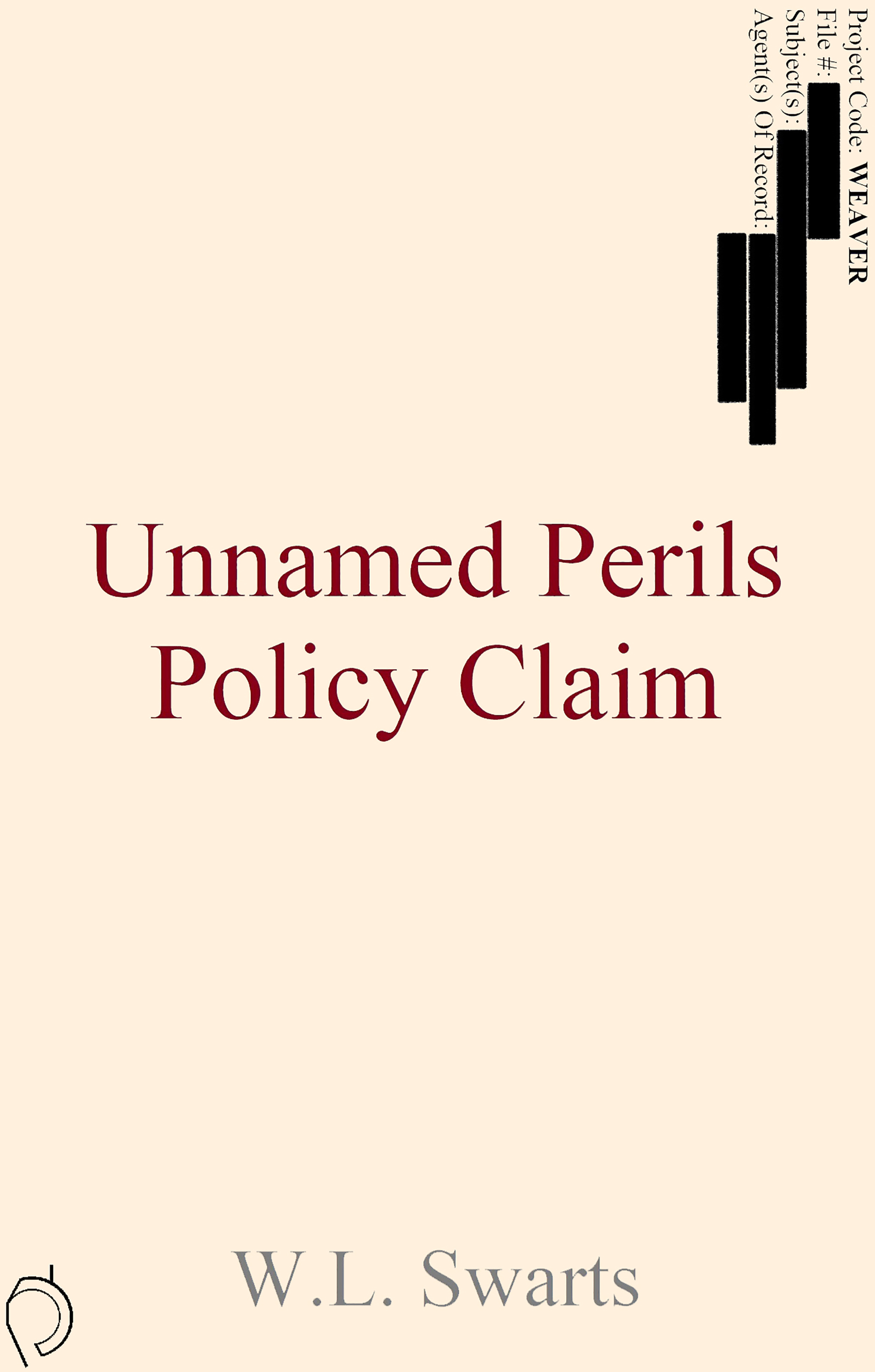 W.L. Swarts has been a writer for over thirty years. After much of a life spent trying to sell works to publishers, W.L. is making works accessible directly to readers through Enlighten Someone Daily. The first book being published through Enlighten Someone Daily is Unnamed Perils Policy Claim.
Unnamed Perils Policy Claim is a work of experimental fiction. It's also one that is intended to be an experience. You know how you can rewatch an episode of television dozens of times and catch new things? You know how movie studios release a theatrical, unrated, and directors cut of a film and no one thinks it's weird to sit and watch the different versions? What if there was a book that was designed to be the same way?
And what if the experience of that book would be ruined by saying more about it? Well, then you'd have Unnamed Perils Policy Claim.
It's a terrible business model, but an incredible piece of art. Here's what the back of the book looks like and has to say about it: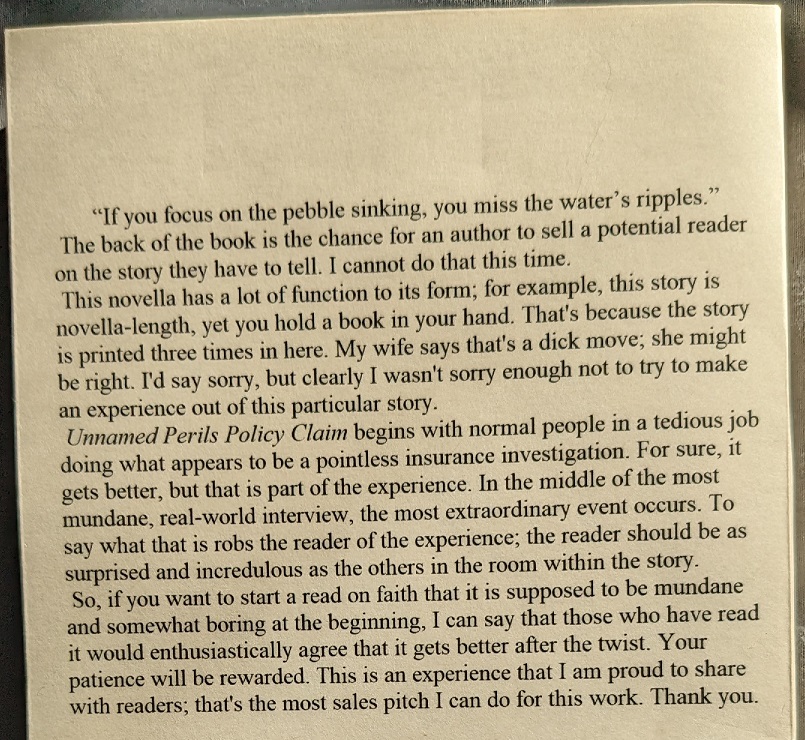 We're very proud of that. Word of mouth is how we'll grow and sell copies of the book, but we're looking for daring people who like to think and are willing to take a minimal financial risk on us. The book is 409 or 410 pages, is priced at $25 + shipping (we're not doing that b.s. one penny less thing!) and is intended to be an experience the reader thrills to experience over and over again.




The book is out now and we are excited to be shipping orders daily. The ISBN is 9780976644644 - other sites like Amazon might start offering the book. We're not sure how; they'll have to come to us to get their copies and the initial print run isn't going to make wholesale pricing profitable for them. So, please, if you're taking the leap on the book, please purchase from us directly. (All books purchased through the website can be autographed and inscribed by the author at no additional charge!)





We seem to have this (the tech is not our strong suit).
Clicking the button below will provide you with a PayPal payment option!
Unnamed Perils Policy Claim is $25 + $8.66 insured book rate shipping/handling.
That's $33.66 by PayPal shipped to a U.S. address, shipping immediately.





?>





If that fails,

and we will send you a PayPal invoice. If you don't want to say anything to us, that's fine, you can just put the

e-mail address of the PayPal account you want us to send an invoice to in the body of the message. Seriously, we won't try to start a conversation.

You won't be put on a mailing list, the only contact you'll receive from us is:
1. The PayPal invoice with the terms of sale (from PayPal),
and 2. An e-mail thanking you and confirming the name you want the book's inscription made out to (if you even want one!).

If there are problems, you can contact us below, but we will respect

your privacy and not bother you otherwise. Thank you very much for your support.









© 2023 Enlighten Someone Daily Productions
E-Mail About An Order